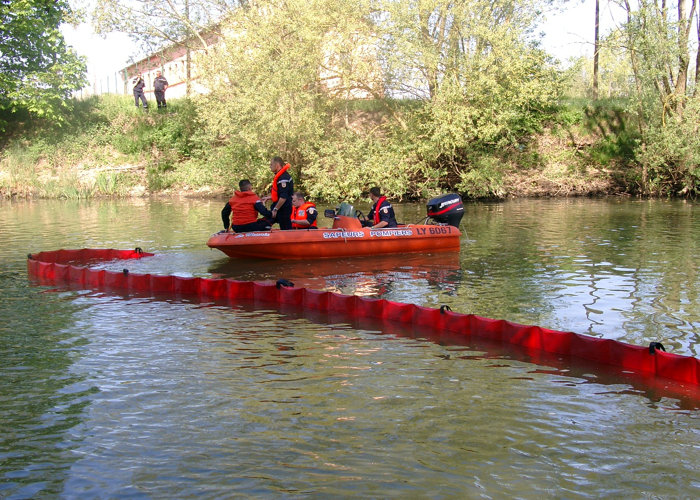 A oil spill boom for the open sean
The CANARIE oil spill boom is a boom for use in open coastal waters, estuaries and harbours, to fight the spread of oil.
A boom made of honeycomb elements with spacer floats in polyethylene foam, a double skirt ending in a ballast chain transferring the tensile forces. It comes with two towing kits to bring the boom to the work area and use for trawling and mooring the boom.
Each element has a ridge strap to be used as a handle for handling, and contributing to transferring the tensile forces on this oil spill boom.
Le barrage flottant CANARIE se caractérise par une grande flexibilité qui lui permet de suivre les mouvements de l'eau en surface et de conserver ainsi sa position d'équilibre en cas de courants perpendiculaires.
The CANARIE floating boom is highly flexible, which allows it to follow the movements of surface water and thereby maintain its equilibrium position in the event of perpendicular currents.
This oil spill boom allows you to perform several operations:
• Close a zone
• Contain an oil slick
• Divert a slick
The boom has been designed to withstand conditions for use at sea, difficult weather conditions, UV rays and very humid environments.
This floating oil spill boom is highly resistant to tears and towing. It also offers high resistance to hydrocarbons, fats (oils, lubricants, etc.) and virtually all industrial chemicals.
Others oil spill booms for the open sea